The Warrior Cleanse Cook eBook
February 2, 2018
Near Infrared Single Light Panel1
April 16, 2018
Thyroid Warrior Panel w/ Sex Hormone Binding Globulin
$250.00
This lab tests includes all of the thyroid markers that are important for us to gather so we can explore the following:
– Thyroid hormones you are making
– What your body is doing with those hormones
– Vitamin deficiencies that could inhibit thyroid hormone absorptionAuto-Immune antibody markers
– Root Cause Active/Dormant viral activity
Description
These are ALL critical to get a comprehensive understanding of your TOTAL thyroid hormonal picture, which in my experience NO doctor gets right. WHY? Because they are trained to look at 1 thing mainly, TSH. Then if that is out of range, they'll put you on a drug, rather than ask WHY it's out of range and work to restore that. For 95% of women who suffer hypothyroid disease, the root cause is antibodies, caused by virus activity.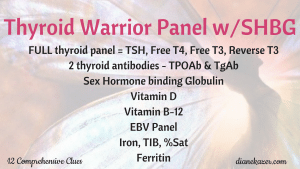 Many of my clients have preferred to go this route, through this lab, under my account, so that they don't have to drive to the doctor, sit in the waiting room, sit and wait some more in the room, TRY to explain their situation and get their doctor to cooperate in running all of these AND running them correctly.  9 times out of 10, practitioners don't run the right things, so they have to go back, and do it all over again, then wait another 1-2 weeks for lab results.  Often times, doctors response is 'These aren't necessary, so I'm not requesting them for you', so they don't and you've wasted half of your day, not getting anything.
Because that time process carries an opportunity cost far greater than the out of pocket price of this lab, clients order this way and save the hastle. It's totally up to you, I created this process to save you time and energy, and possibly money, since insurance policies and coverage is changing rapidly.  Either way, the investment of this lab is not marked up, I only charge my doctor price for the lab. AND any medical expenses such as this, are tax deductible and/or often reimbursable through HSA/FSA plans.  You can also check with your insurance company after the fact to see if they'll reimburse the whole thing, up to you!
The ease of this lab is awesome:  You pay here and within 1-2 business days, you'll receive a requisition form via email from DHA labs. All you have to do is print that out and take it to one of the lab collection sites they refer you to in the email.  Directions on how to prepare is also in the email. Easy peasy.
Then within 1-2 weeks of your blood draw, I'll have the results and we can go over them together!