Lauricidin Monolaurin Supplement
January 5, 2018
The Warrior Cleanse Cook eBook
February 2, 2018
Near Infrared Single Light Panel
Shining 600-1000nm wavelengths on the mitochondria in our cells causes 3 direct effects:
 Increased ATP production
 NO- release into tissues (vasodilation)
 ROS- production
These 3 specifics interact in complex biological pathways to promote the indirect effects of mitochondrial stimulation:
 DNA repair/Epigenetic repair/Correction of gene expression abnormalities/Anti-aging
 Inflammatory Mediator production
 Production of Growth Factors
 Collagen Production
 Cell/Tissue Growth
 Increased Tissue Oxygenation
 Increased Blood Circulation to Cells/Tissues
In the published studies, we see these systemic effects:
 Reduced Cellular/Tissular Inflammation
 Tissue Regeneration
 Reduced Neuropathy
 Improved Recovery from stroke, heart attack and TBI
 Impressive Wound Healing
 Effective Treatment for inummerable diseases. There are 1000s of published photobiology studies.
Description
Our Research Archive includes some, find all of them in the pumbed
 You get the same benefits as the 4 light panel. The Pocket Sauna Enclosure traps the heat (100-120temp.) so     you get a profuse sweat response. You don't find that with the Single Light. Both have the same emission from   the same bulb. You still get a reduction in local inflammation.
 The single light is awesome to use for spot treatment scenarios. Have a cold? 10minutes with the SL on the   throat. Want to massage that cellulite? Better with heat! Use the single light with included base on your couch   or any surface with no incline (the SL may tumble). Use at work to mitigate the effects of blue light from your   LED monitor, use on hands to help with that carpal tunnel feeling, etc.
 Paleo Boss Lady says she got a systemic response! Using the Single Light, all over her body in different areas,   she regulated her temperature. It was a profound response for her after her MS.
100 DAY RISK-FREE TRIAL | FREE SHIPPING BOTH WAYS IN USA | LIFETIME WARRANTY
Ultra-portable Single Lamp Therapy for localized issues, anywhere on Earth: office, home, airline travel.
Ultra-low EMF incandescent (tungsten) heat lamps for full-spectrum light emission. 130 watts of red & near infrared wavelengths for natural, effective mitochondrial stimulation.
Plenty of longer wavelength thermal infrared for the most gentle, feel-good heat therapy you've ever had.
SHIPS WITHIN 10-15 BUSINESS DAYS
ONLY THE FINEST NATURAL MATERIALS
We select only the most non-toxic, non-treated natural materials so you're protected from toxic chemical & offgassing.
Our careful quality control ensures every piece of your product is perfect and will last you a lifetime of use
.
---
PURPOSE-DRIVEN DESIGN
Our thoughtful sauna design addresses usability, safety, material offgassing, non-native EMFs, durability and more.
 VERSATILE USE EVERYWHERE
Our Single Light Panel stands up on it's own on any flat surface. It's counter-balanced to also tilt at a 45° angle.
It has rear VESA-D 75×75 mm anchors to mount to almost any tv/monitor arm on earth.
It also has our 4 Light Panel's clamping hardware so you can add it into the Pocket Sauna below the 4 Light Panel for direct targeting of the foot/lower leg during your full-body sauna sessions.
The removable 10 ft power cord so you can leave the cord in place on your monitor arm, and take the Single Light Panel home with you after work.
---
TIMELESS CRAFTSMANSHIP
We love our craft, and it shows in every piece of our 4 Light Panel.
All basswood components are handworked and hand-polished buttery smooth.
Robotically welded, Double-Chromed Steel Hardware for durable reliability.
Our rigorous quality control involves inspection of every stitch and every component.
That's why we confidently guarantee our product for a lifetime of use.
---
LOWEST EMF TECH ON
EARTH
We don't just say it, we test and measure it. And so can you.
Incandescent technology is emits the tiniest magnetic field.
Up to 2 mG is measured at zero proximity from the wood body &
switch. At ~8 inches from the Panel, at the lamp face, the magnetic field drops to background. Since the user's torso is kept minimum 18 inches from the lamp face, you experience ZERO magnetic field from the Light Panel.
To neutralize the minimal electric field from the Panel, we
use an E-shielded power cord and
E-shielded internal wiring.
All 4 lamp guards are grounded faraday cages, so even the small the electric field from the lamp filament is neutralized.
---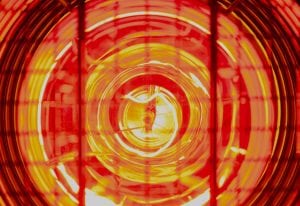 SAFETY FOR EVERY BODY
Our signature rigid chromed steel lamp guards keep you safe and do not offgas anything.
The guards' front grille small mesh keeps even small fingers from accidentally touching the bulbs, unlike inferior guard designs out there. The thin-gauge mesh has low thermal mass so it never gets too hot, even after a full sauna session.
3-switch control gives you ultimate flexibility. 1 switch for each row of lamps. Heat sensitive users start with 1-2 bulbs and work up to using all 4 lamps.
Porcelain sockets, chromed steel hardware and untreated solid basswood means durability without any chemical offgassing, period.
---
WHAT'S IN THE BOX?
 

10-ft removable power cord and 1250 w incandescent near infrared bulb included

Use the Base Plate if you want under the Light Panel for use on synthetic surfaces

SPECIFICATIONS
Brand: SaunaSpace®
Manufacturer Part Number: 56171001
WEIGHT
Single Light Panel Weight: 4.375 lb (1.98 kg)
Base Stand Weight: 1.75 lb (0.79 kg)
DIMENSIONS
Width: 13.6 in (34.6 cm)
Height: 7.5 in (19.5 cm)
Depth: 9 in (22.9 cm)
BASE DIMENSIONS
Width:  12.5 n (31.75 cm)
Height: 10.9 in (27.7 cm)
Depth: 1 in (2.6 cm)
ELECTRICAL INFO
Operating Cost: 12¢ per hr [1]
EMF (Magnetic) Rating: 0 mG [2]
EMF (Electric) Rating: 0 V/m [3]
Voltage: 110-240 VAC
Amperage: 2.1 A (120VAC USA Voltage) or 1 A (220-240VAC International Voltage)
Wattage: 250 W
Frequency: 50-60 Hz
Plug Type: USA, UK, Euro, Swiss or AU/NZ
Removable E-Shielded Power Cord Length: 10 ft (3 m)
All electrical parts UL-listed
CE-certified
[1] based on USA national average 12¢ kW-hr cost
[2] at ~6 in (15.2 cm) or greater distance from switch (measured with TriField® 100XE Meter)
[3] all 4 lamp guards, switchbox and all internal wiring directly grounded to E-shielded power cord neutralize all electric fields
---

FREE SHIPPING BOTH WAYS IN USA
FOR ALL ORDERS OVER $248 IN THE USA
Free insured trackable FedEx Ground Shipping to all 50 States in USA. We also ship to every country on Earth. Calculate your international shipping rates in the Cart.
---

100 DAY RISK-FREE TRIAL




PEACE OF MIND, AND YOUR SATISFACTION GUARANTEED
Use it for 100 days after arrival. If you are not completely satisfied,, we'll arrange the free return ship. As long as it's returned in "like-new" condition, we give you a full refund!
---

SAUNASPACE LIFETIME WARRANTY




OUR PRODUCTS ARE BACKED BY A LIFETIME WARRANTY
Rest assured: You're buying a handmade product meant to last a generation. All SaunaSpace Handcrafted Products come with our Lifetime Warranty.