Description
Food Cravings and Exhaustion no MORE! This 4 week Hormonal and Digestive Detox Guide walks you through cleansing of your organs of elimination, then nourishing your body with nutrient dense foods proven to balance your hormones, designed week by week in the perfect order to bring your body back to life. Diane used these foods to reverse her auto-immune thyroid disease, digestive troubles, sad skin, depression and adrenal exhaustion (to name a few).
The Warrior Cleanse Guide & Cookbook is not about complication or deprivation; we simplify the process, so you can succeed while maintaining your busy warrior woman life. True health begins with one step, so I'm stoked to present to you the MAGICAL order, in which to heal your body, fueled by amazing, award winning recipes created by Maya and me, created over decades and passed down through many generations.  Here they are, by week:
Step 1, Week 1: REDUCE STRESS & BUILD YOUR ADRENAL RESERVES (energy)

Step 2, Week 2: IMPROVE ABILITY TO FILTER TOXINS, FUEL YOUR LIVER (fat burn)

Step 3, Week 3: RESTORE HEALTHY GUT FUNCTION (beauty)

Step 4, Week 4: Collaborate, Customize, Continue, COMMIT! Then Celebrate!
This book is the ONLY one of it's kind to take your body on a journey of healing through your ENTIRE body and provide you with recipes, rich in specific nutrients to address the root cause deficiencies implied in every organ, which lead to disease.  But no more.  It's time to transform DIS-EASE to EASE.  You ready to make it simple again and do it inside of a community that's cheering for you?  Included is an invitation to join our online Warrior Community, so you have constant support and motivation whenever needed. This is an empowering network of like-minded warriors who has your back every step of the way along your wellness journey.
The Warrior Cleanse Is Designed To:
Ignite Your Hormones

Sculpt Your Belly

Love Your Liver

Cleanse Out Your Toxins

Nourish Your Body with Nutrients

Heal Your Gut
Benefits Include:
Replenished Energy

Glowing Skin & Healthy Hair

Weight Loss

Divine Digestion

Sexy Belly & Strengthening

Sex Life Supercharge
These resources await you inside:
Meal prep tips and hacks to simplify your cooking experience (even if you're a total rookie)

Macro conscious meal plan

Weekly calendar print outs

Weekly meal planner ideal week with WARRIOR TOP PICK recipes




Over 100 mouthwatering, easy to make recipes that will give you more energy.




Best of the best products, brands and where to find them so you don't have to figure it out yourself.





… and an invitation to dive even deeper into your healthy AF journey!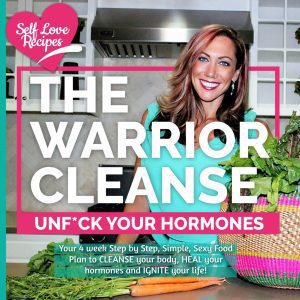 How to Use this Book
Step 1 – Don't wait for the PERFECT time to start. Traveling or not, just START.
Step 2 – This 4 week Program is best paired with a nice Cleanse KIt.  This is the Warrior Cleanse Liver Detox kit I designed to make the perfect team!
Step 3 and beyond are included in the book.  YES, you're worth it and YES you will be energetic AF after these 4 weeks.
Do NOT stop after 4 weeks, unless you want to go back to feeling like $hit again.  I mean, it's up to you.  But don't you deserve better?  How much sicker do you need to get, before you finally commit yourself to a life of total bad-assery, by loving on your body so hard, you don't go back to eating from the 'sick pony' CARB-age menu again?  
Top 7 Foods We will Phase out 
Added Sugar & Artificial Sweeteners

Dairy

Peanuts

Gluten & Inflammatory Grains

Soy

Eggs*

Corn
*EGGS:  for the first 3 weeks, then can add back
Avoid for at least 7 days and Beyond that LIMIT:
Meat – Option to add back in second week

Caffeine (excluding the tiny amounts in Recipe products – kombucha, green tea, small amount in Four Sigma mushroom coffee)

Alcohol (except negligible amounts in Kombucha). Give your liver a break!
AND If you're finding yourself craving more, good news.  There's a program for that.  We go deeper and give you more extensive advice on food quality, density, variety and quantity PLUS mindset mastery, meditation and massive action to not only eat healthier but LIVE into your dreams, check out our Warrior Detox.   If you struggle with self sabotage and feel like you've tried EVERYTHING, yet still aren't where you want to be, LET'S TALK. Although it's outside the scope of this book, it is NOT outside the scope of the tools I have in my toolbox to help a sister OUT.